Accommodation
Our current capacity includes 31 beds in 9 single or double bed rooms and apartments.
All rooms are equiped with a bathroom, balcony, cable TV, telephone and are set up in colonial style.
Our specilization
Weekend/holiday stays, NYE, weddings, company gatherings, training sessions, management events,
as well as sleigh rides and evenings with regional folk bands.
Food
Full breakfast buffet is included in the price.
We also have a wine saloon, restaurant and cocktail lounge for your enjoyment.
For use:
Fax, telephone, copier, printer, internet.
PENSJONAT SILESIA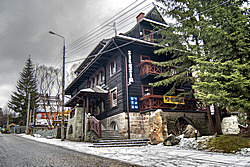 Hotel "Silesia" lies beautifully over a moutain stream with a view of Bukowa mountain. We are located appoximately 400m from the Wisła city centre and 150m from the Gołębiewski hotel complex. We are conveniently located in respect to the hiking trails of Czantoria, Równica, Barania Góra as well as ski runs in Wisła, Ustroń and Szczyrk.
Hotel "Silesia" guarantees excellent leisure and recreational conditions, professional service and a pleasant and discreet atmosphere.
To meet your expectations we offer luxurious apartments and double/single bed rooms in colonial style (inspired by the Orient), an elegant restaurant, a cocktail lounge with a fireplace, wine saloon with a selection of premium wines, billiards, and parking facilities.
All furniture is made from Indian Rosewood and is imported from India.
To broaden your impressions we have built three saunas (Finnish, steam, herbs-aroma) as well as warmth booth 'Infrared'- all made of Canadian cedar with characteristic egzotic scent.
"Silesia" is conveniently located close to the centre of Wisła city, railway and other public transport services. This means that we are easily reached regardless of your means of travel.
On your request we will orgnanize weekend/holiday stays, training sessions, management events as well as sleigh rides and regional evenings with a local folk band.
"Silesia" is located only 150m away from the Gołębiewski swimming pool complex and 50m from the recreation centre and the spa facilities at 'Jubilat'.
You are warmly welcome to stay with us. Our friendly staff speak Polish, English and German.